The WaveAnalyser turns your vessel into a wave buoy, without the hassle of deploying one. And not just any WaveBuoy: besides reporting on the waves, the WaveAnalyser reports on current too. When reading in wind data, you are presented a complete overview of all environmental influences on your offshore operation.
User Interface
The WaveAnalyser turns your vessel into a WaveBouy. By monitoring the ship motions and combining these with the 2D directional wave spectrum measured by the X Band radar the Hs is estimated.
The 2D wave spectrum can be used for much more than just determining Hs. The spectrum also tells you whether or not there is a secondary (swell) wave system active that might be difficult to spot by eyesight alone. Such difficult to spot swells might significantly affect your operational capabilities.
Apart from relevant wave information, the WaveAnalyser also optionally shows the user a speed and direction estimate for the surface current based on the X Band radar data. Furthermore, automated heading advice and output data logging are also optionally available.
Included features
Significant Wave Height - Hs
Peak Wave Period - Tp
Peak Wave Direction
2D Wave Spectrum
Optional features
Current Speed & Direction
Heading Advice
Output Data Logging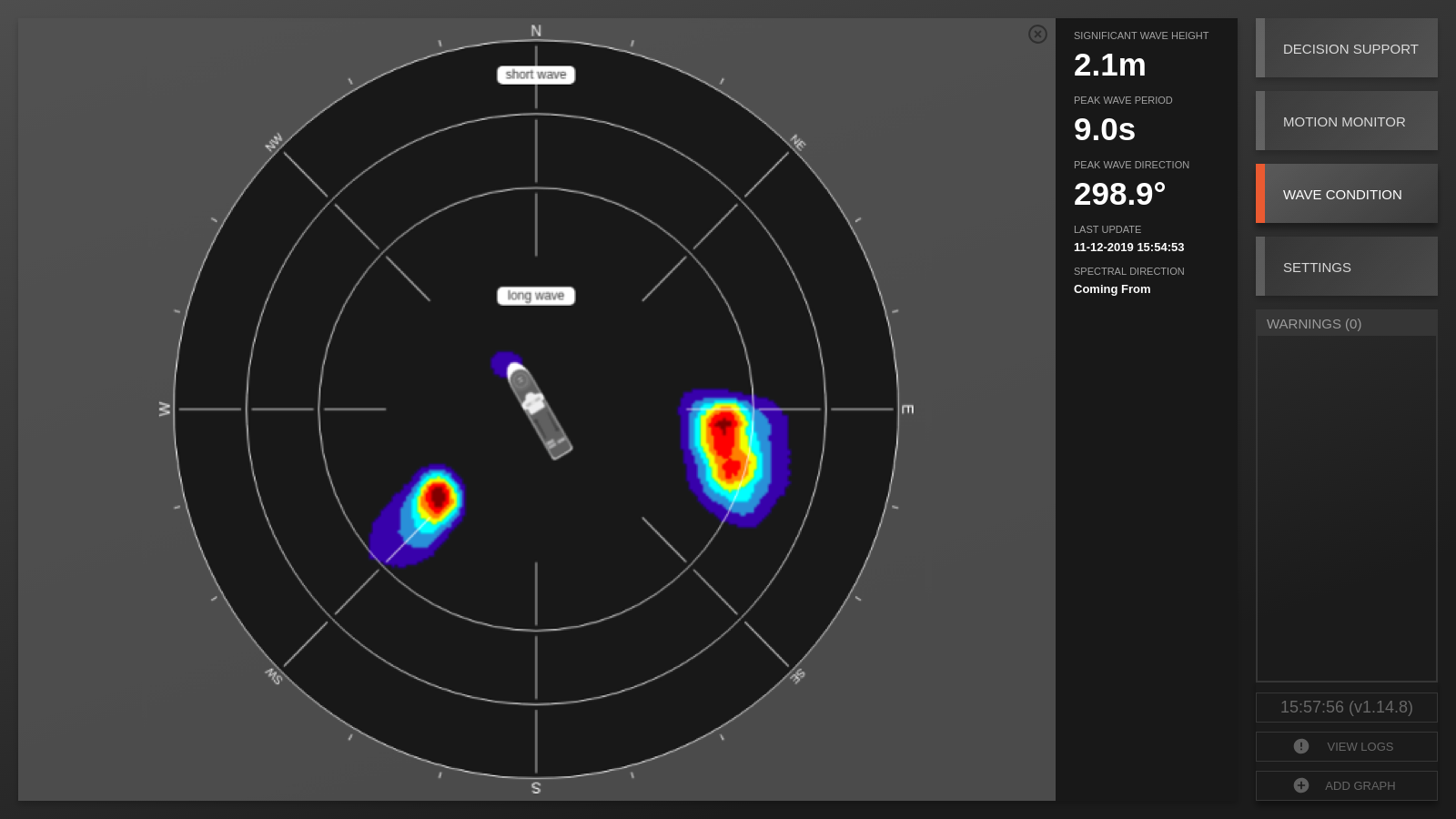 Functional Requirements
For the WaveAnalyser to operate certain hardware is required. You can use the already available X Band navigation radar. However, it is adviced to install a dedicated radar system.
Click here to read more on the dedicated radar solution offered by Next Ocean.
Functional Requirements:
6ft X Band radar antenna
Radar operating in SP (short pulse)
System hardware
Vessel RAO's
Internet connection

Operational Requirements
The following operational condition requirements apply:
Hs > 0.5m
5s < Tp < 15s
Wind > 3Bft